Back to Home
Back to Show Guests
O.J. Patterson:
Edit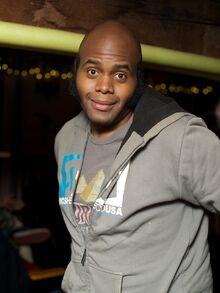 OJ Patterson is a retired stand-up comedian living in Oakland. He writes/edits the comedy blog: Courting Comedy. He also designs games.
OJ Patterson: comedian, astronaut, writer, and funky individual. This is a prelude, introduction, forward to a new space on the Internet I'm inhabiting. This space is for the content, influences, and musings inappropriate for official channels, such as Courting Comedy. The quality and charm will not change, only the scope of subject manner.
External Links:
Edit
Ad blocker interference detected!
Wikia is a free-to-use site that makes money from advertising. We have a modified experience for viewers using ad blockers

Wikia is not accessible if you've made further modifications. Remove the custom ad blocker rule(s) and the page will load as expected.