Back to Home
Back to Show Guests
KayDee Kersten:
Edit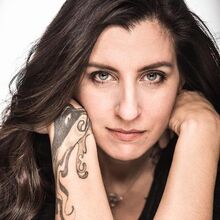 KayDee Kersten is a stand-up comedian, writer, emcee, and occasional magician's assistant. She's known for her off-the-cuff audience interactions, as well as her acerbic take on current events and the human experience. KayDee can be seen anywhere she is visible.
KayDee, or as she likes to be called, KayDee, is a writer and comedian living in Los Angeles.  She also an actress… as long as she only needs to play herself.
Episodes in Which KayDee is Featured:

| Episode Number | Episode Title | Type | Guest | Show/Book | Release Date | Length |
| --- | --- | --- | --- | --- | --- | --- |
| 194 | The Magicians | WYSBW | KayDee Kersten | The Magicians | Mar.27, 2016 | 1:49:56 |
External Links:
Edit
Ad blocker interference detected!
Wikia is a free-to-use site that makes money from advertising. We have a modified experience for viewers using ad blockers

Wikia is not accessible if you've made further modifications. Remove the custom ad blocker rule(s) and the page will load as expected.