Back to Home
Back to Show Guests
Jane Harrison:
Edit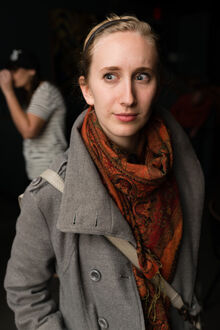 Jane Harrison got her start in Atlanta, but was lured to the Bay Area by the promise of orgasms and stage time. She found at least one of those things on a consistent basis. Her frank material, delivered in her smoky radio voice, only makes people uncomfortable who deserve to be uncomfortable. For everyone else, her act is a feet-up, hair-down, mic-drop tour de farce. She's performed in SF Sketchfest, at Cobb's Comedy Club, the San Francisco Punch Line, the Cynic Cave, produces the critically acclaimed Misery Index and Live at Deluxe, and is a five time Dirty Haiku Champion at Tourettes Without Regrets. She's currently in talks with a guy at a bar who makes her nervous.
Episode in Which Jane is Featured:

| Episode Number | Episode Title | Type | Guest | Show / Book | Release Date | Length |
| --- | --- | --- | --- | --- | --- | --- |
| 182 | King Tommen The First (In Bed) | HBO Show | Jane Harrison | Season # 5 | Apr. 26, 2015 | 1:45:35 |
External Links:
Edit
Ad blocker interference detected!
Wikia is a free-to-use site that makes money from advertising. We have a modified experience for viewers using ad blockers

Wikia is not accessible if you've made further modifications. Remove the custom ad blocker rule(s) and the page will load as expected.